Like many young couples, my husband and I were excited to start a family. We wanted to time it just right so that I could finish teaching during a school year and have some time off with a newborn. When we started trying, we had no idea what all we would have to go through just to get pregnant.
We struggled with infertility issues for 20 months before finally getting pregnant. I have PCOS and do not ovulate on my own. We went through four doctors before finally finding someone that could help. It took one cycle of injectibles and IUI's 2 days in a row to finally work for us.
I am sure many people cannot imagine the pure joy I felt when I saw that positive test. By that time, my mission was to get pregnant and provide children for my husband. I felt like a failure being the one that couldn't get pregnant. I was a teacher and great with kids and desperately wanted a child of my own.
During that first u/s, we were hoping for twins. We kept saying we can be 2 and done. They did the u/s and sure enough.....2 sacs in there! We were so excited. (I was already so sick as well and my hormone levels were through the roof so we suspected more than 1). I was very sick for the first 4 months. I lost weight and had 2 stomach viruses within a month of each other on top of morning sickness (which for me was all day sickness).
I started showing signs of preterm labor around 22 weeks. I was admitted to the hospital where I stayed for 5 weeks on medicine to stop my contractions. I was told if I could hold out to 24 weeks, they would give me steroid shots to help their lungs develop. I was terrified. My husband was absolutely fantastic throughout all of this. He would drive to the hospital everyday after work to see me. He even snuck my dog in the lobby one day when I was really down.
I kept surprising the docs and making it another week, then another. During this time, I was diagnosed with gestational diabetes and went through the steps until I finally ended up on insulin injections to control it.
At 28 weeks (after 5 weeks in the hospital), my doctor decided I could go home and stay on bedrest. I followed their orders exactly at home and was determined to make it as long as I could. I was told after 32 weeks, they wouldn't stop my labor. Around 32 weeks, I was still holding them in. I was sent for twice weekly NSTs and saw my doctor once a week. It was a 45 minute drive (with no traffic) to see my doc. Each week was a bonus! Around 34 weeks, I was miserable. I was so big and uncomfortable that sleeping was almost impossible.
I went for my 36 week appointment at 36 weeks and 2 days.
Me at about 36 weeks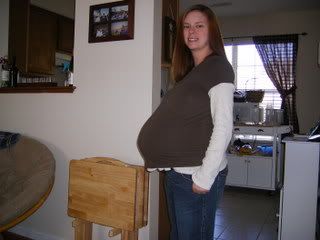 They had been keeping an eye on the fluid levels for baby A and they seemed lower that day. The u/s tech wanted the doc to check it out. I was also fully effaced and dilated to 1 cm. My contractions were 8 minutes apart even on the meds. My doc made the decision for me to go ahead and have the babies that day. Baby B had somehow flipped head down a couple days before (trust me I felt it!) so they gave me the option of how I wanted to deliver. I decided to try a vaginal delivery. Things went a little faster after that. I went over to L&D, got hooked up to the monitors, was given an IV of pitocin to speed things along, and got a dose of antibiotics for group B strep. I had a reaction to the antibiotics and started getting a rash and intense itching so I was given benadryl in my IV. Wow that stuff works fast!
I got my epidural, rested for a bit, then woke up and was 10cm. I did some practice pushing in the room then headed over to the OR (just in case). We soon discovered Baby A was having a tough time coming out since she was face up (OUCH!). I had a tear (arterial I think) and started losing alot of blood so they started moving fast. They vacuumed out baby A to try to find the source of the bleeding. As soon as she was out, baby B flipped feet first. The nurse did a quick u/s and saw it then said something about prepping me for a c-section (my biggest fear was delivering both ways!). The doc acted like she was crazy and said they had no time since I was losing alot of blood. They reached in and did a breech extraction for baby B. By this time, my epidural wasn't working well anymore and I felt everything. I also felt them stitching me up.
Baby A, Avery, was a healthy 5lbs 3oz and 18.2" long. Baby B, Evan, was a healthy 5lbs 2oz and 18.3" long. We were so relieved they were here and healthy.
I had lost quite a bit of blood (my blood count was 12 when I went in and was 7-8 after delivery). I was offered a transfusion since I was on the borderline of needing one and declined after they scared me with their talk of hepatitis.
Avery was jaundiced and Evan lost a little weight so they stayed 3 nights and I only stayed 2. It was so hard leaving them there but they were in the regular nursery and doing okay. Little did I know, I would miss having the opportunity to send them to the nursery so I could get a good night of sleep!
At my postpartum check-up, my doctor admitted he wasn't sure I could stay pregnant to 24 weeks. He said he honestly thought I would lose the babies or they would be born very early. He was amazed I made it to 28 weeks and 36 weeks was miraculous. I told him he shouldn't have doubted my determination (although you can't will babies to stay in there).
Those first few months are a blur now. I look back and can't remember how I made it through trying to nurse, pumping every 3 hours, and dealing with them on different schedules.
When they were 4 months old, my husband had to leave for 3 months of training. I was on my own with them for 3 months and that was quite a challenge. Then I had to sell our house and move on my own. We survived all that and moved to a new military base. Soon after, my husband had to leave for 6 weeks, was back for 2, then left for 6 more weeks. I never imagined being a single (but married) mom to twins. We have had our ups and downs, pneumonia with a short hospital stay, torticollis with some PT, moving with 6 month old twins by myself, living in a 1 bedroom apartment for a month to be closer to my husband, moving again to a new base, more pneumonia with breathing treatments, and teething. I can honestly say every single second of my pregnancy, delivery, and life so far has been worth it. My little 16 month old miracles keep me going.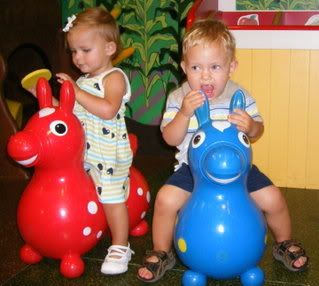 Life in the military is crazy and life with twins is crazy but we do it and try to enjoy the adventures!